WHY are English and French Bulldogs so expensive??? WHY you should not "cheap out" and buy a bargain bulldog?
English and French Bulldogs are expensive to buy.  Myself along with all of the other reputable breeders that I associate with get a lot of questions like….
"Do you have any puppies for $2,000 or less?"
"Well, I can't afford that price, do you know someone who sells them cheaper?"
"Woah what a rip off, I am looking to pay like 500 bucks."
PLEASE take the time to research before you purchase an English or French Bulldog, or any Bulldog for that matter.English and French Bulldogs are expensive to purchase YES, but also high maintenance. Their sensitive stomachs require a high grade, expensive diet, they are prone to ear infections, breathing problems, over heating, joint issues, allergies, etc. They are a man made breed and require lots of extra care. These are not farm dogs that live forever without seeing a vet once. So if you are not able to afford $3,500+ to purchase your new four legged family member, you most likely aren't ready to take on the bills that will come along with it. Not only that, if you find a "bargain bulldog" he/she is likely from a puppy mill where they pump out puppies and aren't doing it the proper or reputable way. I have heard more stories that I can count on my hands of cheaply purchased French bulldogs costing their new families thousands upon thousands in vet bills and those individuals regretting not purchasing a high quality, well taken care of and well bred English or French Bulldog. Don't get me wrong, anything can happen to ANY Bulldog, but please, purchase from a breeder who will give some sort of health guarantee, and where you get plenty of photos of mom and dad, and can see if they are well taken care of.
Take the time to also consider the costs in breeding and raising French Bulldogs. Most people do not know this but Bulldogs cannot BREED naturally, they cannot BIRTH naturally, and they cannot take care of their young without us intervening. This requires progesterone testing, Artificial insemination or surgical implantation, and of course C-sections and most of the time EMERGENCY C-sections. No to mention the countless hours of time on the breeder, feeding every 2 hours around the clock, sometimes tube feeding or administering IV fluids.
Lets break down some of these costs here:
Progesterone Testing: $90.18/Test. Each pre breeding requires approximately two and upwards of TEN tests to pin point the optimal breeding time, and ovulation. That is anywhere between $180.36-$901.80 PER BREEDING! (My last breeding for Prada, I spent over $1200 on testing alone.. )
Artificial Insemination/Surgical Implantation: Depending on where the semen is coming from, or if it is fresh, chilled, or frozen deciphers the method of insemination. An artificial insemination costs $100.00 for one, and you do it anywhere between 2-4 times depending on when she ovulates…. That is $200-$400 plus tax. Now, if the semen is frozen or does not come in good quality, you must do a surgical implantation. This costs roughly $800 with no complications. Now we can add another $400-$800 to our one breeding.
Cesarian Sections: Non-emergency (during business hours) $800 – $1000, and emergency (non business hours) $1100-$2,000.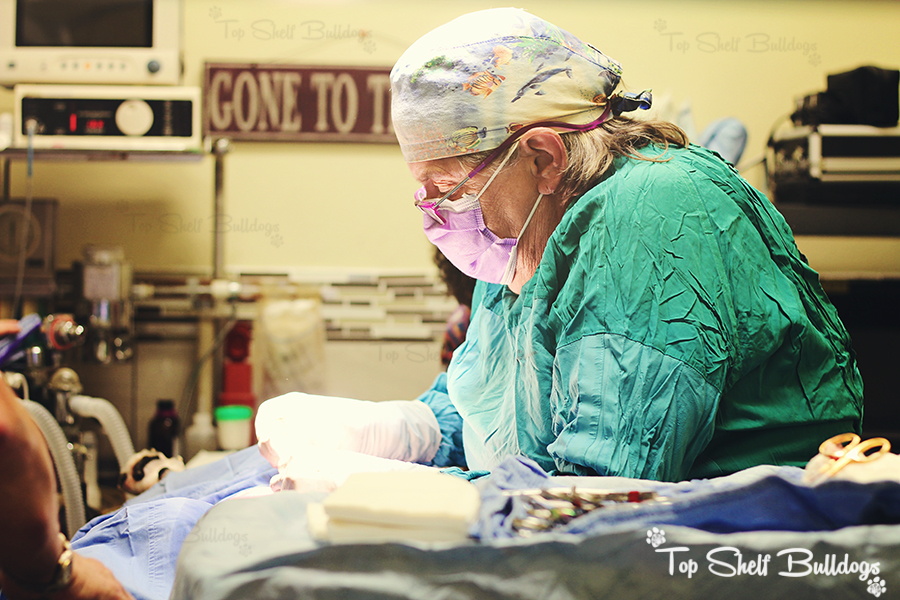 Misc Vet Fees Including Puppy Medications, Check ups, Vaccines, Microchips Etc: Roughly $2,000 give or take depending on if you have any sick puppies, or how many are In the litter.
Everything else for the puppies: Food ALONE is roughly $400 per week x 4 weeks (feeding a high grade kibble, puppy mousse, goats milk and raw organic meat), peepads are $120/week x 8 weeks. We can also add in baby wipes, bedding, laundry detergent, paper towel, cleaning products, electricity for running an air conditioner, heaters, heat pads and heat lamps, water, whelping area supplies, shampoos, tubes, puppy formula, syringes, AKC registration fees, micro-chipping, toys, bones, puppy starter packs, Advertisement fees including website, etc (I am sure I am forgetting LOTS yet)…. But monthly we are probably at $3,000 to raise ONE LITTER.
Stud Fees & Shipping Semen: On the most recent stud fee we paid $2,500 USD.  The shipping cost is $150….so we paid $2,650 on the stud fee/Semen.
O.K….. so with all of the above we are invested  for ONE breeding. I Added on the high end of things using one of my most recent breedings as an example . Puppies range from 2 – 5 per litter.
Lets not forget the fees for purchasing our Bulldogs in the first place. I purchase my dogs from high end breeders and they all come from amazing lines with fabulous pedigrees. Some are imported. I have paid upwards of $12,000 for my most recent imported stud.
Maintenance of our bulldogs is costly as well…. Food is $500+/Month for the adults, and raw meaty bones we pay roughly $400+/month. Yearly vet fees for miscellaneous things and annual vaccines runs about $12,000/year. Then, you cannot forget again…..cleaning products, paper towel, laundry detergent, bedding, electricity to run the freezer/airconditioner/heating/air purifiers/ toys, pools, shampoos, treats, grooming bills, collars and leashes, ID tags, Yearly registration fees, AKC registration fees,  AKC Club Fees, etc…. All of this stuff is in the THOUSANDS monthly. I would say at least $3,500 per month, on a good month.
The above are the reasonings why our English & French Bulldogs are expensive. We do everything in our power make sure the parents we breed are healthy and there are no known health issues in their lines. There is, however, always a chance a health issue will arise, or even small things that come up that require veterinary attention. As breeders we can only do so much, and we do our very best.
So to sum it all up…. "WHY are English and French Bulldogs so expensive?" Because they are hard to breed, expensive to maintain, and of course are the most amazing breed of dog alive.
All of our Puppies Come with a Complete Puppy Pack
Blanket, Bed, Pee Pads, Food, Treats, Chews, Toys, Poo Bags, etc
* De-wormed * Veterinarian Health Checked * Up to Date on Vaccinations * FL Health Certificate * AKC Registration Papers * 1 Year Health Guarantee * Pre-Spoiled
*****************************************************************************************************************************
CONTACT US ABOUT OUR AVAILABLE AKC ENGLISH BULLDOG PUPPIES & AKC FRENCH BULLDOG PUPPIES
*****************************************************************************************************************************
If you don't see what you are looking for below, we are taking deposits to hold your spot on the list for our planned litters (Listed below)**Our waiting list requires a non-refundable $500.00 to hold your future puppy. The deposit is transferable to another litter, but NON-refundable.
*****************************************************************************************************************************
English Bulldogs: $2495 and up
French Bulldogs
:
$3,495 and up
Blues:
$4,995-$10,000
Chocolates:
 $5,995-$10,000
Retired Adults: $1,500-$3,000. They come Spayed/Neutered, crate trained, house trained And Vaccines Up To Date
*****************************************************************************************************************************