"Jarhead" – GCH Philsands Knockout 
His mother's parents are both AKC Champions and she has a 5 point Major toward her Championship.
Other notable animals in his pedigree are CH Dulcinea's Gypsy Bianca (HOF), CH Rocket City's Ambush (HOF), CH Little Ponds Chief (HOF), CH Cherokee Mardel Rudy Vallee (HOF), CH Flippins Scout (HOF), among many others.
HOF after an animal's name means they have been inducted into the Bulldog Club of America's Hall Of Fame for having produced a certain number of Champions. For dogs, it's 10. For bitches, it's 4.
JarHead is OFA Certified for his Heart, Thyroid and Patellas.
AKC "Grand Champion" 84 AKC Champions out of 126 in pedigree and 48 are in the "Hall of Fame"
This is JarHead winning Best of Breed to attain his Grand Champion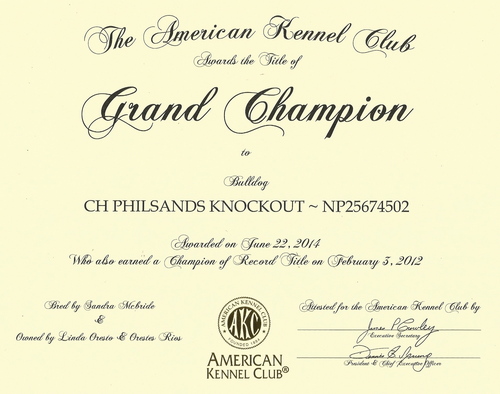 Jarhead attained his Grand Champion designation, one step up from Champion.
JarHead's first win, a 4 pt Major on 7-30-2011, with his handler, Julie Crook.

JarHead's second Major win was another 4 Points + Best of Winners on 11-12-2011.  
He then picked up his third Major win on 1-21-2012 in Brooksville, FL, and finished his Championship on 2-3-2012 in Atlanta, GA.
Above was at the 2011 Bulldog Club Of America National Show in Vienna, VA, where he ribbon'd with 2nd place in his class on Nov 22 and again on Nov 24 ~ that is quite an accomplishment !!
Below is Jarhead's Pedigree